Over the years, we've given £thousands in small grants and donations to campaigning organisations, charities and other good causes. It's a core part of the type of business we want to be, and something we plan to keep doing in line with our growth as a company.
We believe in supporting and raising awareness of the less high-profile good causes out there. We've run a number of initiatives that reflect our personal values and, we hope, speak to yours too. Here is some information on all of our past projects, with some present and future activities that the Radical Tea Towel Company is supporting.
Below you can read more about our annual 'Good Cause Giveaways', as well as how we regularly support certain organisations and campaigns with donations linked to product sales on our website.
2019 Good Causes Giveaway
In March 2019 we chose five more good causes to receive £400 each from a pot of £2000:
Stonewall: A lesbian, gay, bisexual & transgender charity named after the1969 Stonewall riots in New York City's Greenwich Village. It's now the largest LGBT rights organisation in Europe.
The Working Class Movement Library, Salford: One of the most unusual libraries in the world which contains books, documents and other resources about working class history and movements.
Red Cross Appeal, Syria: Provides desperately needed resources for Syrian refugees who have fled their homes as a result of the civil war.
Women's Aid: Offers lifesaving support services for vulnerable women and children across the UK.
Grenfell Tower Appeal (The Kensington & Chelsea Foundation): Identifies and invests in projects which provide hope, opportunities and healing in the community of North Kensington in the wake of this disaster.
We'd like to thank you, our customers, who have supported us over the last year, enabling us to donate to this year's good causes. If you'd like to know more about this year's choices you can read our blog on the 2019 giveaway!
Good Causes Giveaways 2017 & 2018
At The Radical Tea Towel Company we are always looking for ways to do more for good causes. After the worldwide struggles of 2016 we wanted to start 2017 on a positive note, so in early-February that year we launched our Good Causes Giveaway with an initial giveaway pot of £1,000.
The concept was simple. We asked for suggestions of charities and good causes that you would like to see receive some money from us, no strings attached. Nominations were made through email, Facebook and Twitter. In just less than a week we received over 100 nominations, some of them being nominated as many as 10 times!
We then chose a shortlist of 5 causes from your nominations and asked you to vote on which cause should receive the largest donation. There was an amazing 1250 votes cast for the different groups.
Here is a short introduction to the work that each cause does and how much they received from us:
1. CRIBS International, which provide homes for refugee mums and their families, received £510.
2. Glasgow Women's Library, with some fantastic collections by and about radical women, received £160.
3. The Trussell Trust, a network of UK food banks, received £120.
4. Hope not Hate, a group campaigning against the politics of hate, received £110.
5. The Proud Trust, an LGBT+ support group based in Manchester, received £100.
We were really pleased with all of the chosen organisations, and want to thank you all for being involved in this initiative. If anyone has the means to give more, we know that these groups will always appreciate your support.
We have been so overwhelmed by your engagement and enthusiasm that we are looking into making this a regular event.
2018
As promised, we made the Good Causes Giveaway a regular thing. In 2018 we held another vote and these five worthy organisations received donations from us in March from a pot of £2000, as follows:
1. Mary on the Green, the campaign for a statue of Mary Wollstonecraft on Newington Green, London, received £281.
2. Medical Aid for Palestinians, a cause close to the heart of Pat Crick, the grandmother who first inspired Radical Tea Towel, received £521.
3. Womankind Worldwide, empowering women and girls in the developing world, received £489.
4. Llamau, supporting homeless youth in Wales, received £431.
5. Amnesty International, human rights campaigners, supporting brave radicals speaking out in the world, received £278.
Thanks for helping us support a bit of contemporary activism by nominating and voting for your favourite charities this year or simply being a Radical Tea Towel customer.
And if you feel like making your own contribution to any of the above causes or another radical cause close to your heart, I'm sure they wouldn't be averse to the idea!
Watch this space for our Good Causes Giveaway 2019!
Refugees in Calais
The Calais Jungle refugee camp is now an infamous episode in the refugee crisis. The actions of the French and British governments against the thousands of refugees in the camp drew solidarity and support from a politically diverse range of charities, aid and support workers.
In September 2015, we ran an internet-based fundraiser to help provide some much-needed items for the refugees living in the camp. We wanted to raise £750 to provide thermal mats, a UNHCR tent and help build shelters. These were items that were recommended to us in our research as being crucial in the camp.
The campaign ran on our Facebook and Twitter pages, appealing to customers, friends and families to donate what they could. The response was excellent and your donations surpassed the target, raising £800, and ensuring all of the items could be bought.
The success of this campaign was all down to your generosity, so thank you all! You did a wonderful job.
One of the inspirations for our fundraising was the experiences of another family member, Tom Bailey. You can read his post about Calais and Lesbos on our blog. More information about the campaign is available here.
Refugee Action
Refugee Action are doing some great work to provide support and relief for refugees across the UK. They provide a great number of services including legal aid, practical support and guidance.
We recognise that this work is vital and that the refugee crisis is of concern to many of you. In response to this, in 2015 we produced a refugee tea towel and mug design using lines from "A New Colossus" by Emma Lazarus.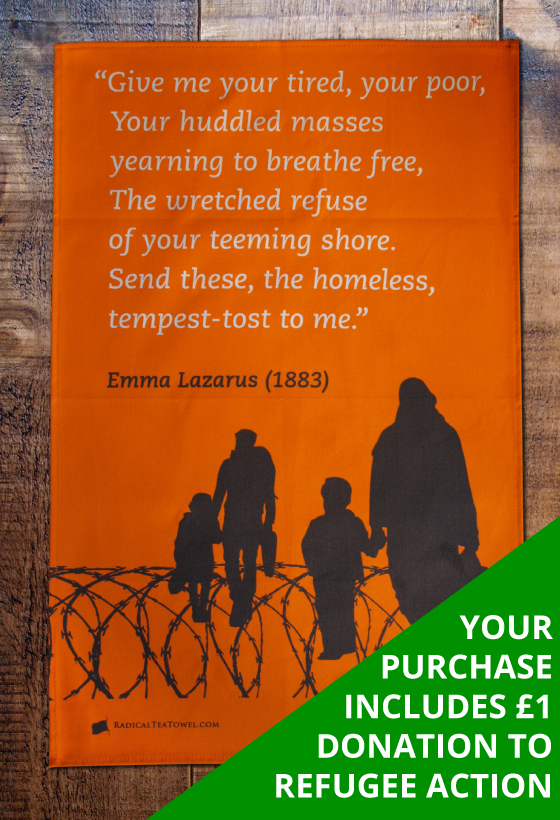 For every refugee tea towel or mug bought, we give a £1 donation to Refugee Action on your behalf to help them continue doing great work.
Rape Crisis England and Wales
Rape Crisis England and Wales is a fantastic feminist organisation, operating since 1973. They work to promote the needs and rights of women and girls who have experienced sexual abuse. Their member centres provide support by women, for women and girls.
In 2016, we designed and released an Audre Lorde mug. Lorde was a writer who described herself as a "black, lesbian, mother, warrior, poet". For every Audre Lorde mug sold we donated £1 to Rape Crisis England and Wales, to support the great work being done by them.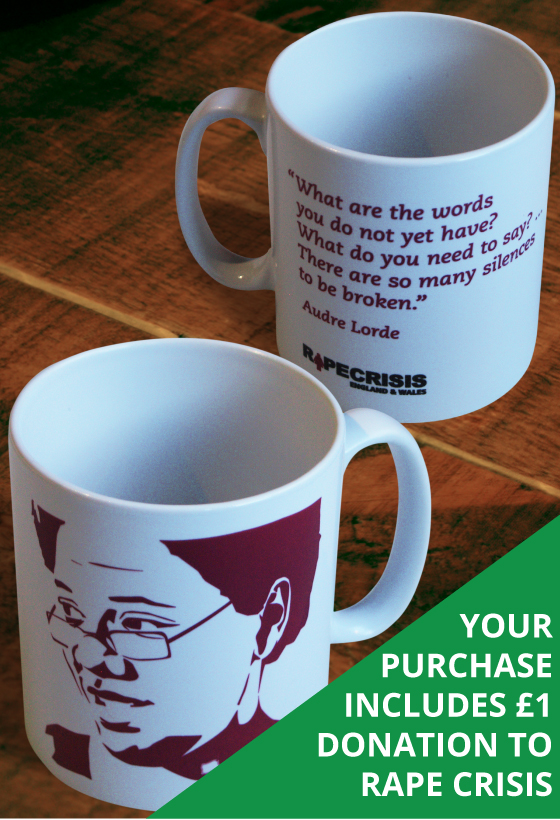 Emmaus Medway
Emmaus is a social enterprise with groups in various UK locations. They provide shelter and community-building projects for people experiencing homelessness.
In October 2016, we donated 150 of our mugs to Emmaus Medway. We believe that everyone has the right to enjoy a radical cup of tea, no matter what their situation!
Products for fundraising
We frequently donate items to good causes for fundraising initiatives. This may be a donation of stock that can then be sold in order to raise to money for a cause, or it may be in the form of prizes for charity auctions or giveaways.
Recent stock donations include giving to the blood cancer charity Anthony Nolan. We also regularly donate items to a refugee support organisation in the Cardiff area. We love to see the radical message being spread in as many ways as possible!

Pete's 10k charity runs
In 2018 Pete made two 10k charity runs raising a total of £2,387, all with the help of Radical Tea Towel Company customers and supporters. The proceeds went to Medical Aid for Palestinians.